I'm struggling to find a particular kind of bookshelves that I thought were very common (although it must be some years since I saw any) and I'm wondering if they had a specific name (maybe a brand name?) and I'm googling for the wrong thing. I suppose it's possible that they were a specific make and aren't made any more but let me describe them and hopefully someone will know what I'm talking about!
The supports for them, at the sides of each section, were made from 1.5"-ish square box section black metal tubes that had lots of front-to-back horizontal rods between them, so looking a bit like a ladder. Somewhat like the image below but with more horizontal rods, every 2-3 inches IIRC.
Each section had cross braces (as below) and (unlike below) the shelves were supported hanging between the horizontal rods on a pair of metal strip supports that had a hook on each end (that went over the rods) and fitted into a pair of grooves on the underside of the wooden shelf.
You could, of course, fit as many or as few shelves as you wanted into any section, with more or less any vertical spacing you liked (to the nearest 2-3 inches at least), and if you wanted to extend the unit left or rightwards you just bought another "ladder" and cross braces, and more shelves and supports of course, and attached them to the side.
Yes, there are a myriad of other shelves out there, but I'm just wondering if anyone else is familiar with the ones I'm describing and (hopefully) has a name for them.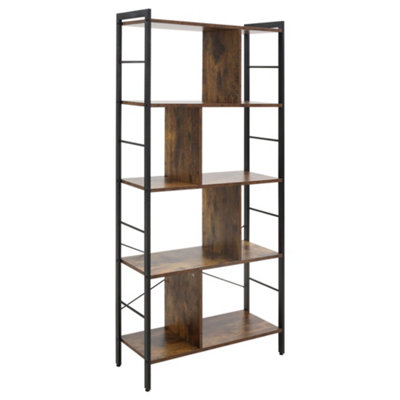 https://www.diy.com/departments/homcom-industrial-storage-shelf-bookcase-closet-floor-standing-display-rack/5056534507329_BQ.prd