The £ has tended to devalue relative to the US$ over time. In turn the $ has devalued relative to gold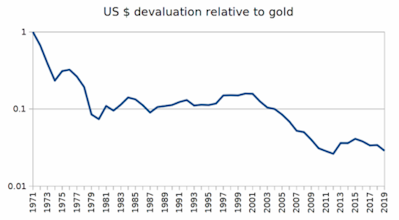 ... at around a 7%/year rate (9% for £). If a one ounce gold coin would buy a Roman soldier a good suit, as might a one ounce gold coin do so nowadays i.e. many proclaim that gold isn't a good investment as it might just pace 'inflation' (and in a very volatile manner), they might be looking at the wrong inflation rate and the wrong currency when making that assumption.
That devaluation is intentional and as such the decline is inclined to continue, albeit in a sporadic manner. Money stuffed into a mattress remains idle. Induce inflation and savers have to deposit/invest in order to offset otherwise inflationary erosion of that monies value. States fear deflation, as then that slows activity/money flow, as people hold off buying (cheaper tomorrow than today), or don't invest their money but instead leave it stuffed into a mattress.
Print enough money and inflation will sooner or later arise, as each new note created and spent lowers the value of all other notes in circulation. Trouble is that can turn around in a large/fast way, and see a rapid rise, despite the good intent to achieve a slow/progressive rise. If interest rates aren't raised above inflation then real yields can move even more negative. 10% inflation, 5% interest rates and -5% real yields would tend to see gold spike heavily in price. Present seemingly high gold prices could rise a lot higher. But equally if current negative real yields move slowly more positive, then gold will falter, stocks however will tend to to well.